Snoochie Boochies! If you're a fan of Actor/Director/Podcaster Kevin Smith's Askewniverse, then you'll want to sign up asap for the first ever Jay & Silent Bob Cruise Askew.
Jay & Silent Bob Present Cruise Askew will be sailing Feb. 23-26, 2024, from Miami to Nassau, Bahamas aboard the Norwegian Pearl. Hosted by Kevin Smith and featuring Jason Mewes, the themed cruise will offer an immersive voyage into the Cruise Askewniverse via a slate of activities, including live podcast recordings, stand-up comedy, autograph and photo sessions, and a wide array of enhanced experiences.
"As a man who's been afraid of sharks since he first saw Jaws in 1975, I'm gonna do my best to make sure none of us get eaten on the Cruise Askew!," said Smith. "I'm also gonna go out of my way to make sure we all have a great time while on the high seas by loading the three days with any and all activities a fan of my flicks could want. I'll make it an experience folks will treasure – and all you have to do is bring your own booty!"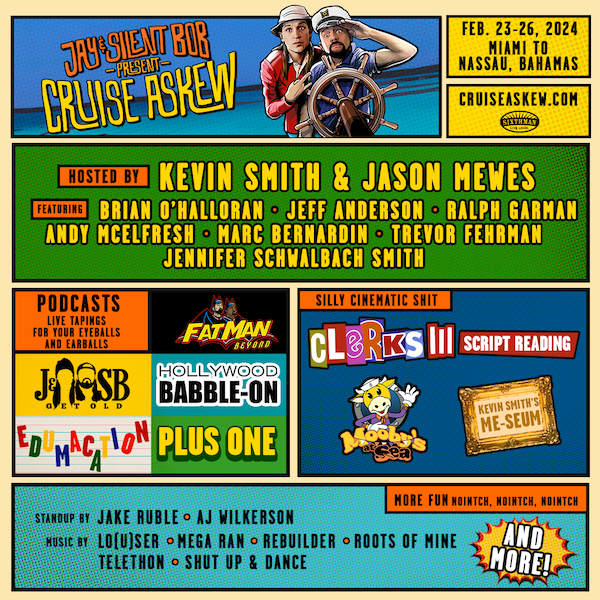 Boasting an all-star lineup of View Askewniverse favorites (including Brian O'Halloran, Marc Bernardin, Ralph Garman, Andy McElfresh, Jeff Anderson, Trevor Fehrman, and Jennifer Schwalbach Smith), the cruise will see live tapings of such beloved Smodcast Network podcasts as "Jay and Silent Bob Get Old", "Fatman Beyond", "Hollywood Babble On", "Edumacation", and "Plus One". Cruisers can dive even deeper into Smith's world with a spectacular schedule of "Silly Cinematic Shit," including the Kevin Smith Me-seum, a "Mooby's at Sea" pop-up restaurant (complete with late-night Hater Tots), and what will surely be an unforgettable script reading of an unreleased version of the "Clerks III".
Even more fun will be had via stand-up sets from comedians Jake Ruble and AJ Wilkerson, as well as live musical performances by Lo(u)ser, Mega Ran, Rebuilder, Roots of Mine, Telethon, and Shut Up & Dance. As if all that weren't enough, Jay & Silent Bob's Cruise Askew will feature special theme nights – including a '90s Prom hosted by Jennifer Schwalbach Smith – along with Bird Bingo, exclusive behind-the-scenes panels, Q&As, activities with favorite actors and podcast hosts, movie screenings, and much more.
The Norwegian Pearl will provide fully stocked bars at (almost) every corner, tasty dining options, the Pool Deck (with multiple hot tubs), the Pearl Club Casino, Mandara Spa, Body Waves Fitness Center, Sports Court, and much more.
Beyond the onboard experience, Clerks, Mallrats, and Funployees will have the chance to enjoy a shore excursion to Nassau, Bahamas, known for its natural beauty and cultural history, beaches, and duty-free shopping.
Pre-sale signups are available now through Sunday, March 26 at 11:59 pm Eastern. All Pre-Sales will secure a cabin photo opportunity with host Kevin Smith and Jason Mewes in character as Jay & Silent Bob. Public On-Sales follow on Friday, March 31 at 2 p.m. Eastern, exclusively at jayandsilentbobcruiseaskew.com. Three different payment options will be available, with Automated Monthly Billing allowing for a deposit as low as $100 per person.
ABOUT JAY & SILENT BOB
Jay & Silent Bob are the iconic stoners known primarily for leaning on the wall outside of Quick Stop Groceries in Leonardo, N.J. Since their debut in 1994's movie "Clerks", the characters played by Jason Mewes and Kevin Smith have appeared in eight feature films, an animated series, and a cartoon movie. For 25 years, they've had their own comic bookstore called Jay & Silent Bob's Secret Stash in Red Bank, N.J. In 2019, Smith and Mewes were immortalized in Hollywood alongside way-more-famous peers when they cast their footprints and handprints in the cement of the legendary courtyard at the TCL Chinese Theater – close to their old Mallrats buddy, Stan Lee.
ABOUT VIEW ASKEW
Started in 1993, View Askew Productions is the birthplace of all the Askewniverse flicks – a series of interconnected films that existed before the Marvel Cinematic Universe movies, but made way less money than the Marvel Cinematic Universe movies. In order of theatrical release, the Askewniverse film canon is made up of Clerks (1994), Mallrats (1995), Chasing Amy (1997), Dogma (1999), Jay & Silent Bob Strike Back (2001), Clerks II (2006), Jay & Silent Bob Reboot (2019), and Clerks III (2022), along with a short-lived Clerks cartoon (2000), various comic book series, and an ungodly amount of merchandise. For more information, visit jayandsilentbob.com.
(Visited 48 times, 1 visits today)