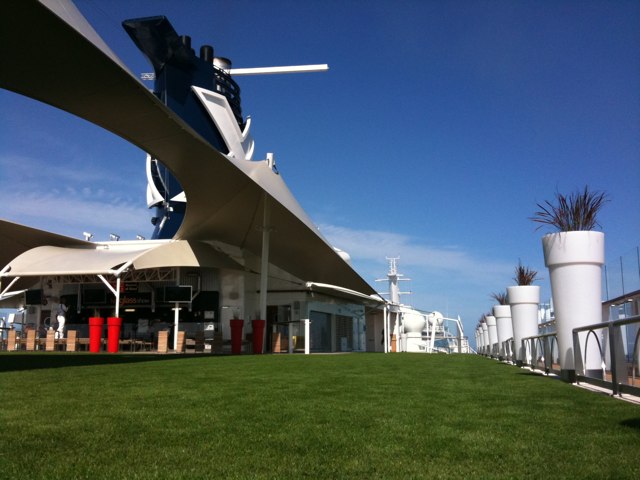 We enjoyed a great dinner in the Silhouette Dining Room last night after the Naming Ceremony. Then we headed to the Equinox Theater (I know, not a very original name) for a sample of some of the shows they offer.
This included an various great musical acts, including a spot-on female impressionist singer (not a female impersonator.)
After a buffett breakfast this morning, the media took part in a Q&A with the designers of the Solstice-class ships, of which the Equinox is the second one. Then later in the day we met with some Celebrity executives. We'll have more from them in our full review.
After lunch, we watched some craftsmen create a beautiful vase during the Hot Glass Show. The ovens, powered by electricity, are a first anywhere because propane is too dangerous to have on-board.
Right next to the Hot Glass stage is The Lawn club. It's real grass on an upper deck where you can putt some golf balls or play other lawn games, lay in the sun, or just walk through to feel the grass between your toes.
After dinner tonight, it's back to the theater for a full production show. Then were off the ship tomorrow and headed back to London.
Keep checking our site as we bring you lots of great photos, a video or two and our full review of the ship in the next few weeks.
(Visited 3 times, 1 visits today)