If you're planning a family cruise next fall and winter, you may want to consider a themed cruise from the company that put the theme in theme park, Disney.
The fun of the holidays will meet the magic of Disney Cruise Line in late 2024 with the return of Halloween on the High Seas and Very Merrytime Cruises. They're also planning some rare itineraries to Hawaii and the South Pacific and more opportunities to visit Disney's newest island destination in The Bahama. Bookings open to the public June 26, 2023.
The holiday-themed cruises are also happening this fall, though they may already be booked full.
Halloween on the High Seas
Halloween on the High Seas returns to Disney Cruise Line in mid-September through October 2024. Families can dress up and join Disney characters in their Halloween costumes; dance the night away at a spooky celebration on the upper decks; enjoy spinetingling themed food and beverages; and immerse themselves in a ghostly ship takeover with elaborate décor and a magical Pumpkin Tree.
From Port Canaveral, Florida, the Disney Wish will sail three- and four-night Bahamian voyages full of frightful fun, while the Disney Fantasy will offer these special themed cruises with lengths varying from four, six and seven nights. Four- and six-night sailings onboard the Disney Fantasy will take families to The Bahamas, while seven-night escapes will transport guests to fan-favorite destinations throughout The Bahamas and Caribbean.
The Disney Magic will depart from Fort Lauderdale, Florida, on vacations ranging from three to five nights to tropical destinations in The Bahamas and Caribbean. Select sailings on both the Disney Magic and the Disney Fantasy will include a chance for families to discover fun and relaxation at Disney Cruise Line's newest destination in The Bahamas. Located on the island of Eleuthera at Lighthouse Point, this vibrant beach retreat will be a unique celebration of Bahamian culture brought to life with the quality and service of a Disney vacation.
Very Merrytime Cruises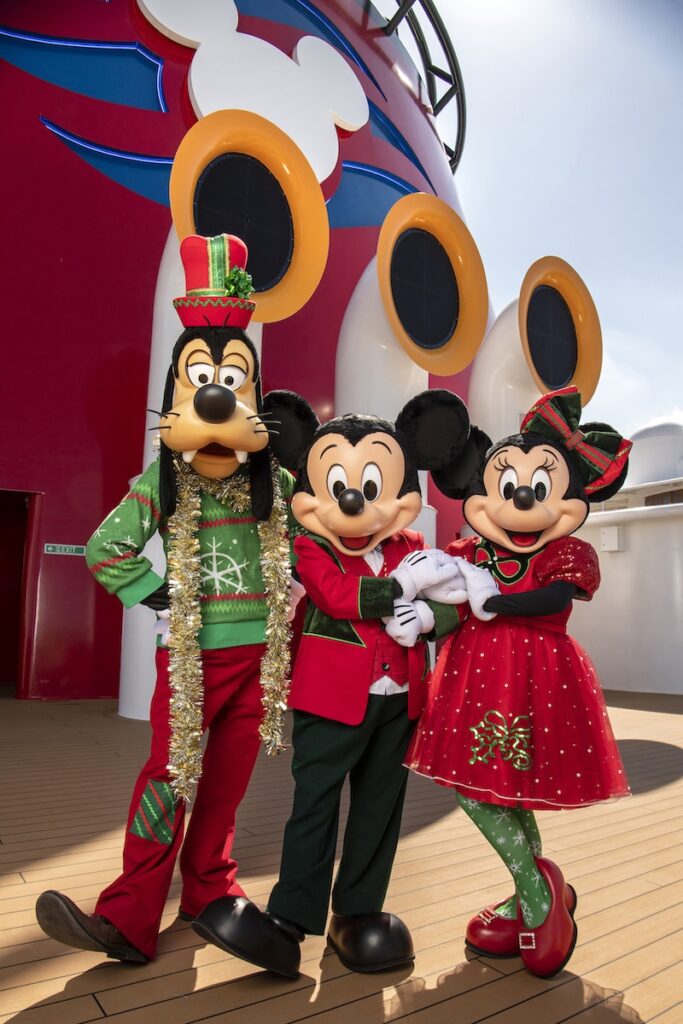 From mid-November through December 2024, the Disney Cruise Line fleet will be decked from bow to stern with holiday cheer and entertainment during Very Merrytime Cruises. Holiday magic will be unwrapped for the whole family with holiday décor; favorite characters in their finest festive attire; themed activities; and celebrations on deck that are full of holiday spirit.
Families who want to spend the most wonderful time of the year with Disney Cruise Line will have opportunities to sail from two home ports in Florida, as well as a selection of cruises from Galveston, Texas.
Short holiday getaways will be offered from both home ports in Florida, with a selection of three- and four-night Bahamian Very Merrytime voyages on the Disney Wish from Port Canaveral and four- and five-night cruises to The Bahamas and Caribbean from Fort Lauderdale aboard the Disney Dream.
The Disney Fantasy will also embark a variety of four-night Very Merrytime sailings to The Bahamas, along with longer six- and seven-night itineraries in November and December, 2024. Select voyages on the Disney Dream and Disney Fantasy will include a day of fun in the sun along the white sand beaches of Disney Cruise Line's newest destination at Lighthouse Point during the holiday season.
Cheerful cruises from Galveston aboard the Disney Magic will range in length from four to six nights, allowing families to celebrate the holiday season together while visiting tropical ports of call throughout the Caribbean.
Special Sailings to Hawaii and the South Pacific
In addition to the festive themed sailings, Disney Cruise Line guests can experience some unique itineraries in late 2024. The Disney Wonder will sail from Vancouver, Canada, to Honolulu, Hawaii, in late September with stops on the islands of Kauai, Maui and Hawaii before arriving in Oahu. From Hawaii, the Disney Wonder will embark on a transpacific voyage to Sydney, Australia, that will take families through the South Pacific to visit destinations such as Fiji, American Samoa, and New Caledonia.
Disney Cruise Line will then set sail on its second season of vacations from Australia and New Zealand, bringing the magic of Disney close to home for local families in the region.
To learn more about Disney Cruise Line or to book a vacation, guests can visit disneycruise.com, or contact a travel agent. We recommend MouseFanTravel.com. They can provide a free, no obligation quote.

(Visited 20 times, 1 visits today)