Wouldn't you like to be waisting away again on Margaritaville at Sea? Well there's no better time for a plan to party and relax as Jimmy Buffet sings it.
Bookable until Sept. 5, 2023, this exclusive discount is valid for trips until April 29, 2024, and offers you the opportunity to sail to the Bahamas in an interior stateroom with a guest for a single guest fare price as low as $99. But with most things, there is a bit of a catch. Your fare is $99, but you must be in a room with a second person paying full price. Maybe two could just split the total cost.
Margaritaville at Sea sails from the Port of Palm Beach to Grand Bahama Island. Guests can relax in casual-luxe comfort. Among the 10 passenger decks, guests will enjoy lots of entertainment, including two Stars on the Water shows – Caribbean Heat and Radio Margaritaville: Live! At Sea.
Several dining venues feature a variety of cuisine, while bars and lounges provide premium cocktails. The ship also features a regulation-sized pickleball court, renovated kid's clubs, casino, pools, hot tubs, a spa and salon, and plenty of quiet spaces to soak up the Caribbean sun.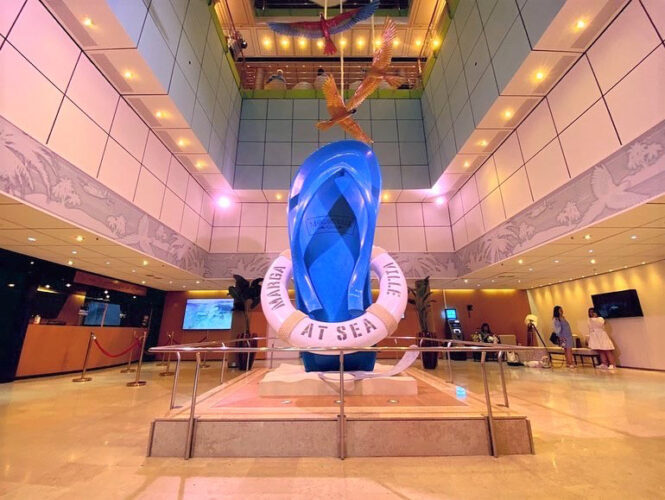 Here are the details:
Some offers and promotional offer codes may not be combinable with this offer. The advertised price is for a single interior cabin, weekday departure, based on double occupancy, unless otherwise noted. This offer includes a free fare for second guests. The second guest free fare only applies to the second guest in the same stateroom as a full paying guest. Offer applies to a two-night cruise and is not applicable for suites. Offer and advertised price does not include taxes, fees, port expenses, gratuities or fuel supplements. This offer is not valid for single travelers. All components included in this offer are non-transferable and must be used at time of sailing. Full payment must be made at the time of booking. Blackout dates include Dec. 31, 2023; however additional blackout dates may be added. A $25 Admin Fee will apply to promotional offers for changes made to the reservation 30 days or less prior to sailing. This offer is subject to availability.
Click here for a review of Margaritaville at Sea by a Parrothead herself on our sister website, AttractionsMagazine.com. For more information, visit MargaritavilleAtSea.com, or contact a travel professional. We recommend MEI Travel for a free quote.

(Visited 134 times, 1 visits today)