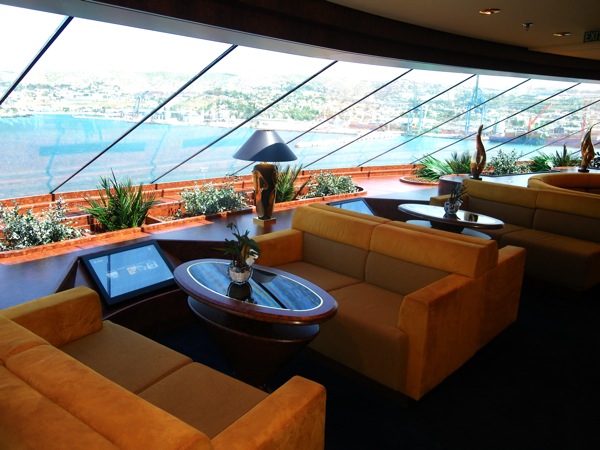 By Michael Coleman
TUNIS, Tunisia — One of the world's largest passenger vessels, docked here in this North African port today, boasts an exclusive, amenity-laden onboard retreat.
MSC Fantasia Yacht Club guests have been enjoying the spoils of butler and concierge service daily during this week-long Mediterranean voyage through Spain, France, Italy and Africa.
And while the 133,500 ton ship hosts some 3,900 passengers at full capacity, Yacht Club guests are insulated in their own private area — off limits to other passengers and strictly enforced – complete with special elevator access to the ship's Aurea Spa. There's a private library, a panoramic VIP lounge where breakfast, lunch and dinner buffets are served plus a private pool with sun deck, bar and whirl pools. Soft drinks, wine, liquor and beer, served within the Yacht Club, are complimentary.
While the ship is as beautiful and glamorous as Sophia Loren, the vessel's godmother, one really doesn't have to leave the Yacht Club at all. Laundry, dry cleaning and pressing services are complimentary as is your favorite newspaper from among over 850 international choices.
Ship architects created just 99 adjoining suites, each with a balcony. Look also for a generous-sized wardrobe closet, bathroom with shower and tub, a safe, interactive TV, telephone, Internet connection and a stocked, complimentary mini-bar.
If you do choose to leave the oasis, however, don't be surprised if your butler escorts you to the spa or perhaps to the ship's L'Etoile Restaurant, an a la carte complimentary venue on Deck 15.
It, like the Yacht Club experience, is divine.
(Visited 8 times, 1 visits today)