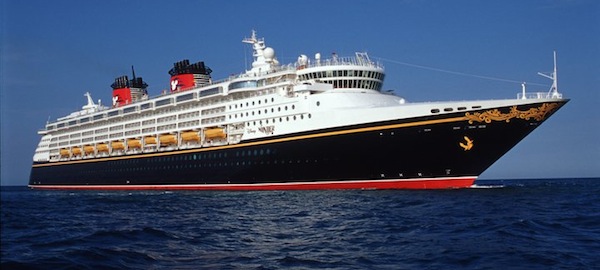 By Steven Skelley and Thomas Routzong
The Port of Los Angeles in historic San Pedro, Calif. is completing several major upgrades and adding two new ships to entice more cruise passengers to its waterfront terminal.
The cruise terminal has recently been upgraded with state-of-the-art gangways, video screens, audio upgrades, passenger comfort areas, scenic photography and artwork. There are plans for costumed characters to entertain the children waiting to board their ships and "the port of Los Angeles is completely ADA accessible," said Director of Media Relations Phillip Sanfield.
San Pedro's new pedestrian-friendly, waterfront parkway includes The Fanfare Fountain of Gateway Plaza. This Bellagio-inspired fountain is the largest water feature in California and features spectacular water shows synchronized to music and lights. The fountains pump 400,000 gallons of recycled water through 58 jets.
Visitors can can stroll along a two-tiered, palm tree-lined path, enjoy local artwork, or just sit and watch sea lions swimming by the massive cruise and cargo ships. An incredible 42 percent of all goods imported to the USA pass through this port.
A restored trolley car runs along the waterfront allowing easy access to attractions such as the Los Angeles Maritime Museum and Ports O'Call Village with its' eclectic collection of shops and restaurants.
"This is really an amazing two block experience with open-air bus tours, museums galore, everything," said Jayme Wilson, owner of Ports of Call Restaurant and Spirit Cruises.
Already the busiest cruise port on the West Coast, the Port of Los Angeles in San Pedro is currently the embarkation point for Princess Cruises, Royal Caribbean, Carnival Cruises, Silversea, Norwegian Cruise Line, Holland America, Celebrity Cruises, Crystal Cruises and Seabourn.
In January 2011, the Port of Los Angeles in San Pedro will become home port for the Disney Cruise Line ship, Disney Wonder, which could generate more than 250,000 guests passing through the Port of Los Angeles over a five-year period and in Fall 2011, the port will become home port for the 2,124-passenger Carnival Spirit. The Spirit's new schedule will include five-day and nine-day Mexican Riviera cruises as well as a 15-day voyage from Los Angeles to Hawaii in December 2011.
Article by Steven Skelley and Thomas Routzong of FloridaCruiseAndTravelersMagazine.com
(Visited 11 times, 1 visits today)