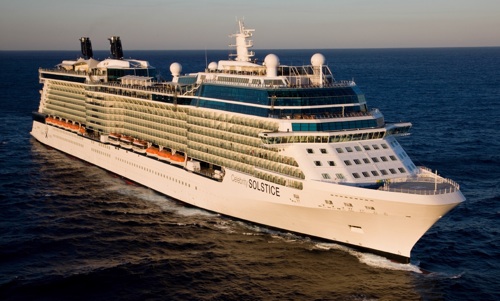 Ship Review by Michael Coleman, July 2009
Celebrity Solstice has been wowing cruise passengers from bow to stern since her recent debut.
The vessel sports a much-heralded half-acre-sized Lawn Club on the top deck, complete with real grass. Between games of bocce ball and croquet, even putting competitions, couples have also been enjoying picnics — sans shoes of course — as bare feet meets turf for the first time at sea.
Steps away, almost incredulously, is a hot glass blowing workshop: another first. The Corning Museum of Glass offers two shows nightly in the specially-designed, dedicated studio.
Solstice, however, is more than just another shiny new vessel with a catchy gimmick, or two, to attract passengers. She's a treat for the senses complete with contemporary design elements, tasteful culinary options and a host of quiet public spaces accentuated by comfortable seating and soothing mood music.
It should therefore come as no surprise that such an elegant cruise ship also features stylish accommodations ahead of its time.
It is here where ship designers exceeded expectations, creating sanctuaries unlike any other at sea. With the aide of five, keen-eyed women — an experienced travel agent, a frequent cruiser, a travel writer, a hotelier and a potential cruiser — the team crafted spacious bathrooms, smarter, improved storage spaces and softer, more stylized color palettes.
Look for increased clearance beneath the bed for larger luggage, and storage units over the bed for personal items such as handbags and shopping bags. Modular closets were created for varied clothing lengths; 32-inch flat-screen TVs have been placed in every stateroom and larger flat-screen TVs added to suites; individual reading lights have been placed at each nightstand, including a shelf for personal items such as reading glasses and books; and spacious bathrooms feature glass showers and large fog-free mirrors.
A first-in-industry adjoining stateroom design features a double set of doors allowing guests to open up space for families or friends traveling together. Verandas of adjoining staterooms also can be opened to create a veranda spanning both rooms.
In fact, Solstice staterooms are 15 percent larger than those on other Celebrity brand ships, 85 percent of which feature private, outdoor verandahs.
Solstice even features a new class of suite dubbed AquaClass. Comprising of 130 of the ship's 1,425 staterooms, AquaClass guests receive unlimited access to the ship's AquaSpa relaxation room and the Persian Garden, an exotic aromatherapy and steam room.
Guests aboard Celebrity Solstice will be hard pressed to enjoy all of her gastronomic offerings regardless of which European or Caribbean itinerary one chooses.
No fewer than 10 restaurants greet passengers daily, from the two-level Grand Epernay main dining room — serving breakfast, lunch and dinner – to several stylish, casual venues including the Oceanview Cafe and Grill. Look for a host of buffet-style serving stations here and, because of excellent functional design, few lines.
The ship features three intimate, nominal-charge specialty restaurants serving contemporary French cuisine (Murano, $30 per person); Italian (Tuscan Grille steak house, $25); and Asian (Silk Harvest, $20). Excellent wine choices abound and pairings are made all the more enjoyable thanks to friendly and knowledgeable sommeliers.
Murano guests may also choose from a six-course menu, complete with a different glass of wine for each course. The service and ambience in this cozy venue is unequaled onboard and reminds quests that while Solstice provides a premium cruise travel experience, the specialty dining opportunities easily rival those offered aboard many of today's luxury cruise lines.
For those enjoying the ship's AquaClass suites, there's Blu. For just $5, look for the venue to serve lighter fare.
As one settles in to enjoy all that Solstice has to offer, a host of cozy retreats reveal themselves on decks 3, 4 and 5. It is here where one finds wine bars, a casino, lounges and a dance club.
Cellar Masters, an upscale wine bar, features wines both by the glass and bottle. Look also for enrichment programs complete with wine tasting seminars.
The nearby Ensemble Lounge is an ideal setting for pre-dinner cocktails, complete with either jazz, a string quartet or pianist performing each night. One actually has to walk through this warm venue to gain access to the specialty restaurants so it's a great place to see and be seen.
Look also for the Passport Bar, located next to the ship's sweeping Grand Foyer, and The Martini Bar & Crush, an enclave which features an alluring frosted bar. Passengers here can enjoy some 100 varieties of vodkas from around the world.
For guests who love the mod, futuristic designs of the '60s and '70s look no further than the pulsating Quasar dance bar. It's open late.
And, since this is a Celebrity ship, don't forget to enjoy the line's private and intimate locale – Michael's Club — with its classic, English leather back chairs, dramatic black glass chandelier and a grand Michelangelo marble fireplace paired with contemporary artwork and accessories. Single malt scotch and cognac tastings are the norm amidst a backdrop of soothing piano and jazz music.
Meanwhile, on Deck 14, the ship's new signature lounge features a myriad of dance options . . . great for burning off those recently added calories. Passengers in the Sky Observation Lounge enjoy multiple styles of dance thanks to a live band, nightly, plus panoramic views of the sea.
The 122,000 ton, 15-deck ship is the first of five Solstice-class vessels to be built for Celebrity by German shipbuilder Meyer Werft. The company constructed the line's Century-class fleet — Celebrity Century, Celebrity Mercury, and Celebrity Galaxy.
Ship

Year Built: 2008
Maximum Passengers: 3,145
Passenger Decks: 13
Number of Crew: 1,246

Staterooms

Total Staterooms: 1,426
Suites with balcony: 66
Suites, no balcony: 0
Ocean View with balcony: 0
Ocean View, no balcony: 70
Inside: 140
Inside Atrium View: 0

Entertainment

Casino
Disco/Nightclub
Movies
Card Room
Game Arcade

Spa / Wellness / Fitness

Fitness Center
Full Service Spa
Sauna/Steam Room
Beauty Salon
Outdoor Pool
Bocce/Lawn Bowling, Basketball Court, Croquet, Golf Putting

Public Rooms

Bars/Lounges
Library
Internet Center

Children / Teens

Organized Age-Specific Activities
Dedicated Teen Center
Teen Programs
Children's Pool
Youth Staff
Babysitting Available

Dining

Traditional Assigned Seating
Formal Nights
Specialty/Alternative Dining Venues
Coffeehouse/Patisserie
24-Hr Venues

Other Facilities / Services

Elevators
Duty-Free Shops/Boutiques
Dry Cleaning/Laundry
Concierge Desk
Infirmary/Medical Center
Safe Deposit Boxes
Business Center Services
Hot Glass Show, Four Specialty Restaurants, Creperie
(Visited 34 times, 1 visits today)