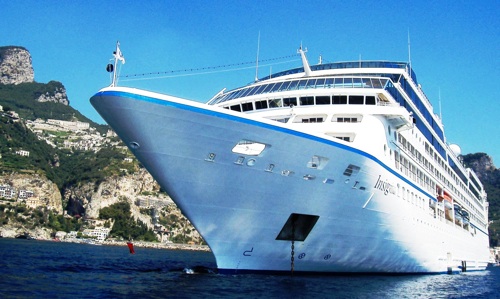 Upstart Oceania eyes expansion
Ship Review by Michael Coleman, August 2008
A fledgling cruise line has come of age and is now set to unveil a bold new look.
Since taking its first reservation in January, 2003, globe-trotting Oceania Cruises has enjoyed impressive growth all the while introducing a new class of high seas travel – upper premium for a savvy, loyal following.
Three, 684-passenger vessels later, the line that could now finds itself poised to build two new ships for delivery in 2010 and 2011.
Humble Beginnings
Company executives were eager to fill what they deemed to be a cruise travel void when the Oceania product was on the drawing board just a few short years ago.
There were a number of mass market lines plying the worlds oceans in 2003 (Carnival, Royal Caribbean, Princess, Norwegian), some premium lines (Celebrity, Holland America), and luxury brands (Cunard, Radisson (now Regent), Seabourn, Silversea), but no one was specifically marketing to the country club set.
Thus, Oceanias upper premium class was born. Its been a huge success ever since.
Officials rolled out a business plan geared towards slow, steady growth. Regatta debuted in 2003, Insignia followed in 2004 and Nautica in 2005. The vessels had been part of the now defunct, eight-ship Renaissance Cruises fleet.
Oceania made slight modifications to each vessel and dropped millions to produce a county club atmosphere of warmth and elegance complete with many of the amenities one would find at the luxury cruise travel level excellent service, high-end bedding, open seating dining and multiple, no charge specialty restaurants, plus star and off- the-beaten-path boutique ports where larger vessels could not go.
Pricing would be key Oceania typically charges just a few dollars more per guest per day above the premium brands and the culinary component would have to be inspiring.
Enter Jacques Pepin.
Pepins Cuisine
While officials handled the day-to-day operations and the lines expansion plans, the famed Master Chef would create, implement and continuously oversee Oceanias cuisine from breakfast through dinner and every morsel in between.
Its a formula that has worked, and worked well since the lines inception.
Known for his award-winning cooking shows on national public television, Pepin has authored more than 20 cookbooks, served as personal chef to numerous heads of state and presently serves on the faculties of some of the worlds most prestigious culinary institutions.
With the help of Oceanias executive chefs he has developed menus that blend new and exotic dishes with revered classics for the lines discerning, well-traveled clientele. Such was the case during my recent voyage aboard Insignia.
Pepins onboard domain featured four distinctly different dining venues: Polo Grill (steakhouse) and Toscana (Italian), each a reservations-only, specialty restaurant; Grand Dining Room and Tapas on the Terrace (informal evening Bistro). The ship features an open-seating policy: passengers can dine whenever and with whomever.
All courses started with a selection of breads made with Viron flour, milled from high-quality wheat and grown in the fertile Beauce region of France. The end result: Pepins team unveiled a cornucopia of freshly made breads of every imaginable style including poulichettes, brioche rolls, bacon bread and baquettes.
Specialty Restaurants
Hungry souls entering Polo Grill look for crisp, white linen tablecloths, warm dark wood furnishings and supple, high-back leather chairs might start with Caesar salad prepared tableside and a Chesapeake bay crab cake with pommery mustard sauce before turning their attention to Pepins signature 32 oz bone-in Kings Cut Prime Rib (dry aged 28 days), slow roasted and served medium rare.
Meanwhile, in Toscana, a bright, airy venue, Pepins broad menu featured some mouth-watering choices, among them: Involtini di Melanzane alla Ghiotta (sliced eggplant rolled and sauteed with roasted minced veal stuffing and basil, baked in fresh tomato sauce) and Aragosta Fra Diavolo con Linguine (whole Maine lobster sauteed with fresh garlic, spicy crushed chili peppers, Italian parsley and vine ripened San Marzano tomatoes, served over linguini). Tiramisu is but one of many dessert offerings.
Other than the two specialty restaurants which receive slight menu variations on a seasonal basis, youd be hard pressed to find the same choices in the Grand Dining Room over the course of a 30-day voyage. Look for Versace bone china, Riedel crystal and Christofle silverware to add to the culinary experience.
Life Onboard
Shipboard life is as welcoming as Pepins cuisine.
Look for soothing colors, soft textures and plush furnishings throughout the 11-deck ship. All suites have a veranda and 70 percent of staterooms feature private teak verandas. Butler service is offered in owners, vista and penthouse suites. The ship features more than 300 DVDs in its library.
Theres also a laid back side to an Insignia sailing which greatly appeals to the resort-style, country-club set which makes up its passenger capacity.
In and around the pool deck area look for chaise loungers for two; eight private, sun-soaked cabanas; and to cool down for those forgoing an alcoholic beverage theres a milkshake station.
Oceanias success also clearly lies in a stylish yet relaxed dress code that one would find at any local country club. There are no formal nights which clearly appeals to the onboard crowd.
Today, not content to rest on its laurels, expansion plans are well under way. Marina, a slightly larger vessel than any of Oceanias existing fleet, at 1,250 passengers, will debut two years from now and an as-yet-named sister ship will join the line in three years.
Ship

Previous Name: R1
Year Built: 1998
Year Refurbished: 2006/2008
Passenger Capacity: 684
Passenger Decks: 9
Number of Crew: 400

Staterooms

Total Staterooms: 342
Suites with balcony: 62
Suites, no balcony: 0
Ocean View with balcony: 170
Ocean View, no balcony: 83
Inside: 27

Entertainment

Casino
Disco/Nightclub
Card Room

Spa / Wellness / Fitness

Fitness Center
Full Service Spa
Sauna/Steam Room
Beauty Salon
Outdoor Pool

Public Rooms

Bars/Lounges
Library
Internet Center

Children / Teens
Dining

Open Seating Dining
Specialty/Alternative Dining Venues
24-Hr Venues

Other Facilities / Services

Elevators
Duty-Free Shops/Boutiques
Dry Cleaning/Laundry
Self-Service Laundromat
Concierge Desk
Infirmary/Medical Center
Safe Deposit Boxes
(Visited 9 times, 1 visits today)