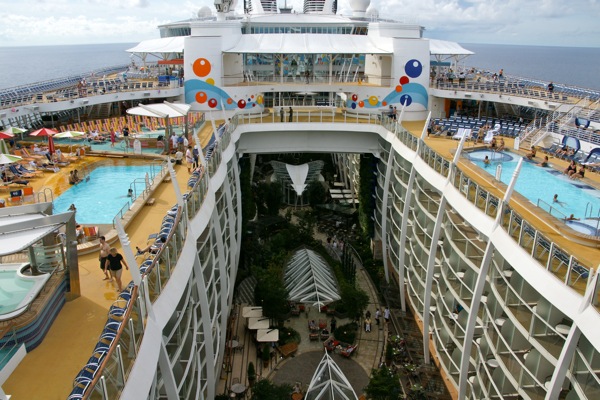 Oasis of the Seas offers a cruise like no other
Ship Review by Matt Roseboom, November 2009
Royal Caribbean's Oasis of the Seas, the largest cruise ship in the world, recently made her much anticipated debut at her home port in Ft. Lauderdale. Oasis is unlike other ships in more ways than one. She sets a new standard in cruising.
If you view the ship from the top or back, you'll see her unique design. The ship is seemingly split down the middle with cabins that look down from both sides to the Boardwalk (complete with a carousel) on Deck 6, and Central Park on Deck 8. That's right, this ship has a Boardwalk and a real park. If you've been on any of Royal Caribbean's other newer ships, you'll recognize the Promenade as the mall-like open space down the center of the ship. On the Oasis it's nearly twice as wide and has an added mezzanine level. It's here you'll also find The Rising Tide Bar. It's just that — a bar that moves up and down between the Promenade deck and the Central Park deck.
Even though it's the largest cruise ship in the world, the open decks make it easier to find your way around than on ships where every deck looks alike. And if you do get lost, just tap your destination on the large touch screens near each elevator. It'll show you a mapped route to get to your destination. You really can't tell how large the ship is until you visit the Pool and Sports Zone on Decks 15 and 16. Stand near the center on these decks and you'll barely be able to see the ocean on either side. The ship has room for up to 6,296 guests.
Forget dining at your assigned table in the main dining room. Although Oasis offers that, you have your choice of 15 complementary dining options, nine specialty restaurants with a cover charge and two a la carte treat shops. After dinner you have as many options. There's a dedicated comedy club, an ice skating rink, a jazz club, disco and more. You'll need tickets to many of the shows, including the main show room (where you can see a live performance of "Hairspray"). Tickets can be reserved before your cruise or onboard from your stateroom TV. Unique to the Oasis is the Aquatheater. Located at the end of the Boardwalk, this open air theater can transform from a swimming pool and sun deck, to a stage or movie theater. But it was designed for their signature shows, which feature high divers, trampoline artists and synchronized swimmers. Again it's unlike anything else at sea.
Look above the Boardwalk and you'll see guests ziplining 82 feet across the open area of the ship – nine decks above your head. Thrill-seeking guests can also climb either of two large rock-walls or surf in one of two Flowriders.
These are just the highlights of Oasis. Once aboard you'll discover many more innovations. You may have heard cruise ships referred to as cities at sea. No other ship comes as close to that as Oasis of the Seas.
Ship

Year Built: 2009
Passenger Capacity: 6,300
Passenger Decks: 16

Staterooms

Total Staterooms: 2,706
Suites with balcony: 166
Suites, no balcony: 0
Ocean View with balcony: 0
Ocean View, no balcony: 176
Inside: 496
Inside Atrium View: 553

Entertainment

Casino
Disco/Nightclub
Movies
Card Room
Game Arcade

Spa / Wellness / Fitness

Fitness Center
Full Service Spa
Sauna/Steam Room
Beauty Salon
Outdoor Pool

Public Rooms

Bars/Lounges
Library
Internet Center

Children / Teens

Organized Age-Specific Activities
Outdoor Children's Play Area
Dedicated Teen Center
Teen Programs
Children's Pool
Youth Staff
Babysitting Available

Dining

Traditional Assigned Seating
Open Seating Dining
Formal Nights
Specialty/Alternative Dining Venues
Coffeehouse/Patisserie
24-Hr Venues

Other Facilities / Services

Elevators
Duty-Free Shops/Boutiques
Concierge Desk
Infirmary/Medical Center
Safe Deposit Boxes
Business Center Services
(Visited 21 times, 1 visits today)