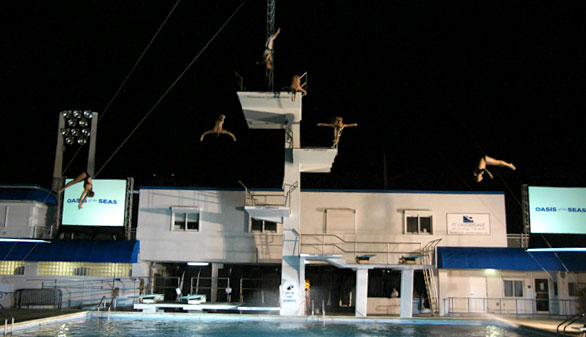 Royal Caribbean recently held a preview of the shows to be performed in their new AquaTheater on Oasis of the Seas when it's launched later this year. Here's our video of the event held at International Swimming Hall of Fame in Ft. Lauderdale. The two shows will be called Oasis of Dreams and Splish Splash (a comedy) and will feature divers (from as high as 72 feet), synchronized swimmers, and trampoline gymnasts. Below the video are more pictures and information.
Visit our YouTube page at youtube.com/cruisenewsweekly to see the video in high definition.
For more pictures from the preview, visit our photo set on Flickr.
The Oasis of the Seas will launch toward the end of this year. Visit oasisoftheseas.com for more information.
(Visited 14 times, 1 visits today)