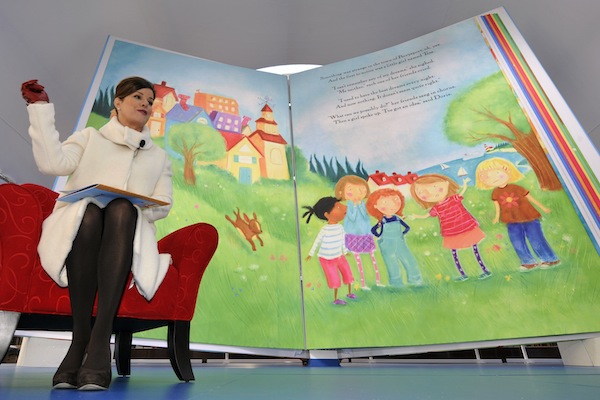 In celebration of the launch of its newest, largest and most family-friendly "Fun Ship" ever, Carnival Cruise Lines announced that Academy Award-winning actress Marcia Gay Harden will serve as godmother of the new Carnival Dream. She unveil the world's largest children's book in New York City on Friday, along with a major, multi-year partnership with St. Jude Children's Research Hospital.
New Yorker and mother of three, Harden will officially name the new ship when it makes its North American debut in New York on Nov. 12, 2009. In honor of Carnival Dream's much-anticipated arrival, the Tony Award-winning actress unveiled Carnival's Big Book of Dreams — measuring 15.5 feet high by 20 feet wide — in New York City's Rockefeller Center and conducted a special reading of the larger-than-life story to dozens of schoolchildren. Inspired by the imaginative dreams of children who sailed on Carnival Cruise Lines this spring, "The Dream Plucker of Perrysport" tells the tale of a group of young friends who find themselves on a unique adventure after they encounter a furry orange monster in a quest to remember their dreams.
"As a mother and actress driven by the idea of dreaming big, I'm honored to take on this new role as godmother of Carnival's largest-ever ship and to help bring the Big Book of Dreams to life for local children," said Marcia Gay Harden. "I'm also inspired by Carnival's dedication to support and encourage all kids to dream big through its partnership with St. Jude."
During the three-year partnership with St. Jude, Carnival Cruise Lines' goal is to raise $3 million to help achieve the hospital's mission of finding cures and saving children with cancer and other catastrophic illnesses. To support the hospital, under the theme "Care to Play," Carnival is creating a number of fun, interactive on-board fundraising activities that will involve guest participation. Carnival will also donate hundreds of kid-sized copies of "The Dream Plucker of Perrysport" to the hospital.
"We're excited to have a dream-worthy lineup of activities to celebrate the launch of the Carnival Dream, including the talented Marcia Gay Harden as godmother, and to bring kid's dreams to life in the biggest children's book ever," said Carnival President and CEO Gerry Cahill. "We are also very proud and honored to work with St. Jude to further support its wonderful work and inspire the children and families of St. Jude to never lose sight of their dreams."
"We are so fortunate to work with compassionate companies like Carnival," said Richard C. Shadyac Jr., Chief Executive Officer of ALSAC, the fundraising organization of St. Jude. "Every dollar donated by Carnival and its guests through the Care to Play fundraising activities will help St. Jude continue its efforts in finding the cures and providing the treatments that will save children's lives. On behalf of everyone at St. Jude, thank you."
The 130,000-ton Carnival Dream, is a new class of vessel for the lineg. On Sept. 21, the Dream began its inaugural voyages in Europe and will make its North American debut in New York on Thursday, Nov. 12. The 3,646-passenger Carnival Dream offers a host of innovations including more than 19,000 square feet of space dedicated to children and families, as well as an expansive WaterWorks aqua park featuring the longest water slide at sea. The ship also offers an indoor/outdoor café and entertainment venue called Ocean Plaza, a two-level Serenity adults-only retreat, a wrap-around promenade encircling the ship and a 23,750-square-foot health spa.
To learn more about Carnival Dream and the Carnival Book of Dreams, visit BigBookofDreams.com.
(Visited 18 times, 1 visits today)