By Michael Coleman

Ladies and gentlemen . . . Elvis has left the building and is headed for a cruise ship out of Florida.
The third annual music-themed Elvis Cruise aboard the 2,052-passenger Carnival Inspiration will depart Tampa roundtrip November 12 for four nights of Elvis and more Elvis en route to Cozumel, Mexico.
Hosted by Elvis' close friend and entourage member, Jerry Schilling, the cruise will feature live music and entertainment from some of Elvis' former band mates and backup singers along with the best Elvis tribute artists in the world.
The artists will perform nightly in Vegas- style shows and in more intimate settings in the various lounges and performance areas on board the ship.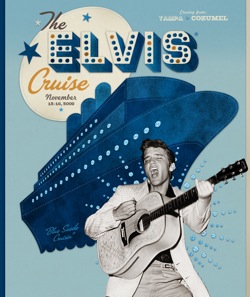 Scheduled to perform are The TCB Band, The Imperials, The Sweet Inspirations, Joe Guercio, D.J. Fontana, Terry Mike Jeffrey & Band, Andy Childs, Ronnie McDowell and The Dempseys along with Elvis Tribute Artists Gino Monopoli, Victor Trevino, Ted Torres, Dwight Icenhower, Jay Zanier, Simon Patrick, Bryant Scott, Mark Anthony, Joseph Hall, Kevin Mills, and George Thomas.
Joining the cruise for the first time this year are Elvis' movie co-stars Celeste Yarnall from Live a Little, Love a Little; Cynthia Pepper from Kissin Cousins; and Chris Noel from Girl Happy. Another addition this year is famed Elvis photographer Al Wertheimer.
 

"The type of talent performing on this cruise is what you would have found on tour or in the recording studio with Elvis as many of the artists worked with him professionally for many years," said Schilling. 
 

From the Carnival Inspiration's seven-deck-high Atrium, gift shops and dining rooms to the bars, Lido Deck and main stage, passengers will find the King of Rock 'n' Roll and his music around every corner. In addition to Elvis-themed entertainment, passengers will also enjoy in-room Elvis movies, meet and greet sessions with celebrity guests, an Elvis fashion show featuring officially licensed merchandise, Elvis Monopoly and trivia tournaments, ice carvings and many other Elvis-themed activities. 
 

"The third installment of the Elvis Cruise demonstrates the success of the two previous events and the commitment of Elvis Presley Enterprises to take Elvis and his legacy to new and exciting places by allowing fans to experience his music in a unique setting," said Jack Soden, CEO of Elvis Presley Enterprises.
 

While the primary focus of the cruise is Elvis and live entertainment, guests will also enjoy the offerings and culture that go along with a visit to Cozumel. The vibrant reefs of the Mexican isle are a magnet for snorkelers and divers while a brief trip inland allows passengers to explore the rich Mayan heritage and landmarks around the island.
The ship underwent an extensive multi-million-dollar refurbishment last year that saw the addition of a water park, adults-only retreat, resort-style pool and numerous other features. 
 

Cabins for The Elvis Cruise are now on sale and start at $599 per person based on double occupancy plus taxes and fees.


On the Web: theelviscruise.com
(Visited 37 times, 1 visits today)