By Michael Coleman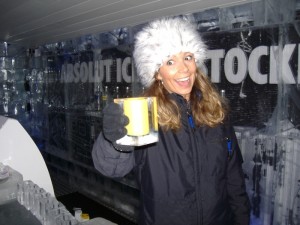 STOCKHOLM Sweden – In a city renowned for its legends, a new "hometown hero" is emerging. 
This Baltic playground has long been the domain of iconic figures through the ages from inventor Alfred Nobel and actress Greta Garbo to modern sports legends Bjorn Borg and Annika Sorenstam.
But there's a new kid on the block – young like the Baby Boom around it – that's causing quite a stir.
The Absolut Icebar Stockholm, nestled in the lobby of the Nordic Sea Hotel, is this city's latest attraction. A speakeasy like no other, it's the world's first permanent icebar. Its also red hot with locals and cruise passengers alike.
Whether this new icon has the staying power of Nobel, Garbo and the like remains to be seen. In fact, at this stage, it's like comparing apples and oranges, but since opening in June of 2002 it has proven to be more than just a fashionable trend.
They come the world over to visit the city's museums, royal palaces and to toast each other's good fortune in a tiny, climate-controlled space reserved for just 30 patrons at a time. More warm-blooded revelers and the bar, with its all-ice interior, would melt.
Reservations are a must, but once inside there is no time to linger. It's just 23 degrees Fahrenheit, which makes for a quick drink, a quick photo and a quick exit. 
More than 150,000 people have dropped in since it opened, proving it may be more than just a novelty in this highly-cultured city.
On the surface, an icebar in Stockholm sounds more like an oxymoron. The Swedes have long cold winters but it hasn't prevented this bar from enjoying a brisk business through all seasons.
It's so popular, in fact, that three other Absolut Icebars have since opened around the world – London, Milan, Tokyo – and more are on tap.
The concept is based on a simple, cold-hard premise: Servers will not put ice in your drink as much as they will pour a drink in your ice.
Glasses, like the bar, tables, chairs, benches and other interior sculptures, are made completely of ice from the country's Torne River. The Swedes claim it's the purest ice in the world and professional sculptors actually carve a new Absolut Icebar Stockholm every six months.
The visit will set you back $150 kroner (about $22). It includes the use of a hooded silver cape, ski gloves and one complimentary drink from a selection of 18 vodka cocktails. The entrance fee for a non-alcoholic beverage is $105 kroner.
The Absolut Stockholm, a concoction of Absolut peach, pineapple liqueur, orange juice and blue curacao – like the bar for which it is named – is a runaway favorite here.
(Visited 24 times, 1 visits today)