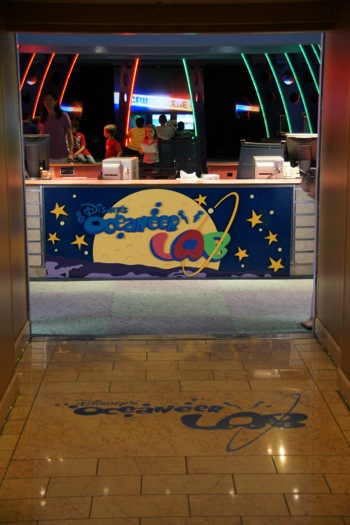 Through an entirely new approach to youth activities, kids can let their imaginations set sail by customizing their cruise vacation on Disney Cruise Line. More youth activities than ever before are available and children may choose their experiences based on interest, not age.
New youth activities and dedicated children's spaces are available now on the Disney Magic and the Disney Wonder and are coming to the Disney Dream beginning with the ship's maiden voyage in January 2011.
"The changes within Disney Cruise Line youth activities will allow children freedom to create a customized experience onboard our ships," said Disney Cruise Line Vice President of Entertainment Jim Urry. "Children can select their own adventures and immersive experiences for a truly personalized, memorable cruise vacation."
Customized Experiences
On Disney Cruise Line, children can personalize their cruise vacation by selecting activities and events, regardless of age. Oceaneer Club and Oceaneer Lab are open to children age 3 to 12 on the Disney Wonder and age 3 to 10 on the Disney Magic.
While Disney Cruise Line will continue to recommend activities that appeal to specific maturity levels and ages, the entire menu of offerings is open to every child. With this evolutionary approach to shipboard youth activities, children and parents select programs based on the specific interests of each child to create a customized and very personalized experience. Best of all, children of different ages – siblings, extended family and friends – can participate in youth activities together throughout their cruise.
The majority of children's events and free-time activities occur within dedicated youth spaces on the ship and on Castaway Cay. Disney Cruise Line youth activities are supervised by specially trained, experienced counselors. Specific program information is available to guests on the day of check-in at the Youth Activities registration desk located in the Disney cruise ship terminal building prior to boarding, or onboard in the Oceaneer Club and Oceaneer Lab.
A World of Youth Activities
With more than 100 activities, events and programs, and with all youth activities open to all ages, children have more choices than ever before on Disney Cruise Line. Many experiences draw inspiration from classic Disney stories and popular Disney characters:
– During the new Cinderella's Royal Ball, young guests can feel like royalty as Cinderella shows them how to be a prince or princess.
– So You Want to be a Pirate offers adventurous tales of the high seas, pirate training for young buccaneers, swashbuckling fun and a special appearance by Captain Hook.
– Children are immersed in the world of Disney●Pixar's "Toy Story" during Toy Story Boot Camp. Led by Corporal Green, toy recruits participate in interactive activities.
– Hands-on activities appeal to children's sense of creativity and invention:
– The next great celebrity chef could be discovered at Ratatouille Cooking School, where children work together to bake tasty chocolate chip cookies.
– During the new Animal Tracking Series, children discover that conservation can be fun as they learn about endangered animals, create an animal tracking device and locate (plush) cotton-top tamarin monkeys using telemetry tracking on Castaway Cay.
– In Flubber, one of the most popular youth activities on Disney Cruise Line, children join Professor Goo in creating magical green goo and other interesting concoctions.
– Other onboard youth activities include playful programs such as Mouseketeer Training and Little Einsteins for preschoolers; challenge-and solution-games like Stitch's Great Adventure and Detective School with Goofy; high-action group activities such as Kim Possible: Cruise Control and The Challenge of Davy Jones; and unstructured free time to enjoy the youth areas, play on computers and spend time having fun with new friends.
To learn more about Disney Cruise Line or to book a vacation, guests can visit disneycruise.com, call Disney Cruise Line at 888/DCL-2500 or contact their travel agent.
(Visited 11 times, 1 visits today)