The brand new Norwegian Prima is the first of a new class of ships for Norwegian, and the ship has a few firsts, such as the first three-deck Speedway, first ever dry drop slide, first flying theater at sea, and more. Here's my day-to-day report.
Norwegian Prima – Day 1
We woke up and got ready for our drive to Miami from Orlando. It took us about four and a half hours to drive to the port with one stop. Because we got to the Port of Miami later in the afternoon, there was no line at all, we just walked right on.
Boarding is so easy later in the day. There's usually no line or waiting around for them to call your boarding number. We just walked right on and went to our room.
Our room was on deck 13 midship. It had so much storage in the three section closet. But there was even more storage in the desk area, in the night stands, and the restroom had storage as well. The restroom felt roomy. It's not as compact as it is on other cruise ships. The loveseat was comfortable and there was an ottoman too. The desk/vanity area had quite a few charging outlets and the ottoman doubled as a chair. There was a mini fridge in the room as well.
Our balcony room had a king bed and the lamps on the night stands had USB ports to charge your devices. The decor was creams and teals. The motif was ocean jewel themed. Our balcony had two chairs that reclined, and a small table to set your drink on while enjoying the view.
We walked around the ship and checked into our muster station. Ours was located at Syd Norman's Pour House. We love the ease of most muster stations nowadays. You used to have to wait around with your lifevest in a crowd of people.
We had one specialty restaurant booked for us and we tried to book more, but they were all full. But it's a shorter three-day cruise and none of the passengers had to pay for the specialty restaurants, so it was expected. We did manage to book our shows. After walking around the ship a bit, we got a drink at one of the two Starbucks locations, before exploring more.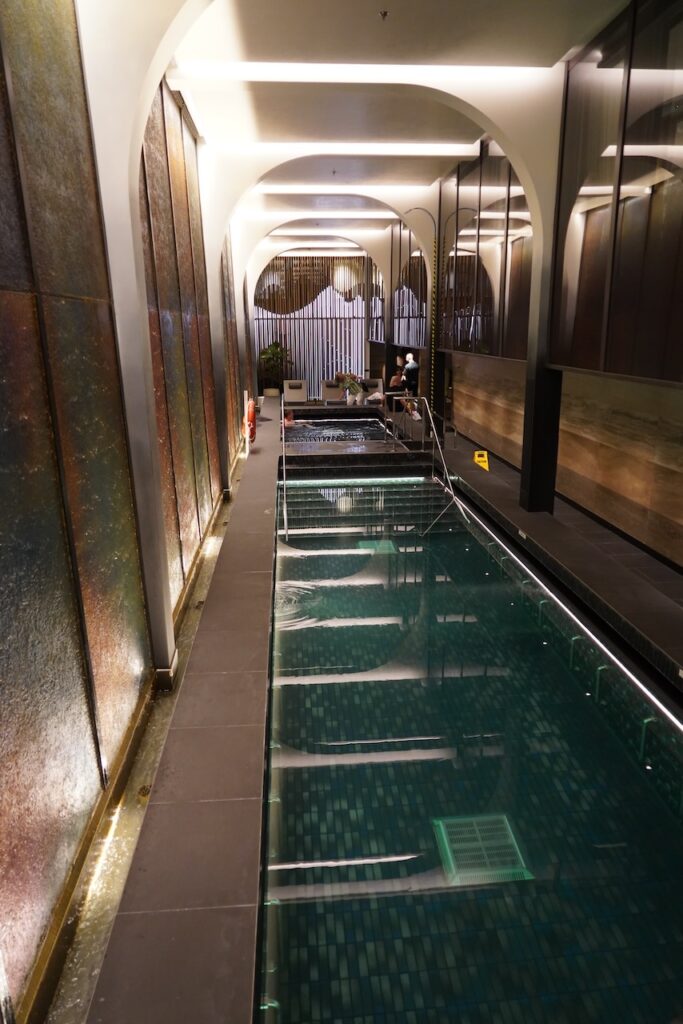 We toured the beautiful Madra Spa and Fitness Center. The thermal spa was impressive. The thermal rooms look heavenly. They have a salt room, ice room, a Finnish sauna, charcoal sauna, wet sauna, and an infrared sauna. The deck with all the relaxation chairs looked so inviting, and there's an amazing view. They have Medi-Spa services as well as a nail and hair salon, and a barber shop. There are a lot of massage rooms onboard the Norwegian Prima. I was so glad I was able to book a massage for our sea day once onboard.
After some rest, we went to the Galaxy Pavilion game area on deck 17 and played some really fun virtual reality (VR) games. I personally liked Sky Riders, which reminded me of the Speeder Bikes from Star Wars. They were cool, but my husband and I both thought there should be more interaction during the ride. But it was still fun. We tried a few other VR games that were like ones you could play on your home VR set. But the ones that stood out were the ones that have a ride-on feature that heightens the experience. Here's a look at all the games in the Galaxy Pavilion:
The VR games are $29 for an hour of unlimited play, or $49 for the whole day. There is also a $199 Galaxy Ultimate Cruise Pass for your whole cruise. The Ultimate Trio Package is $399 and includes the VR games, the Prima Speedway, and The Bull's Eye darts area.
We then headed to a media welcome reception on deck 17 aft at Vibe Beach Club. This is a private area for those 18 and older to relax and enjoy the full bar and the infinity hot tubs. There is limited availability and a charge to use this area. The view was absolutely beautiful, especially when you're docked at the Port of Miami.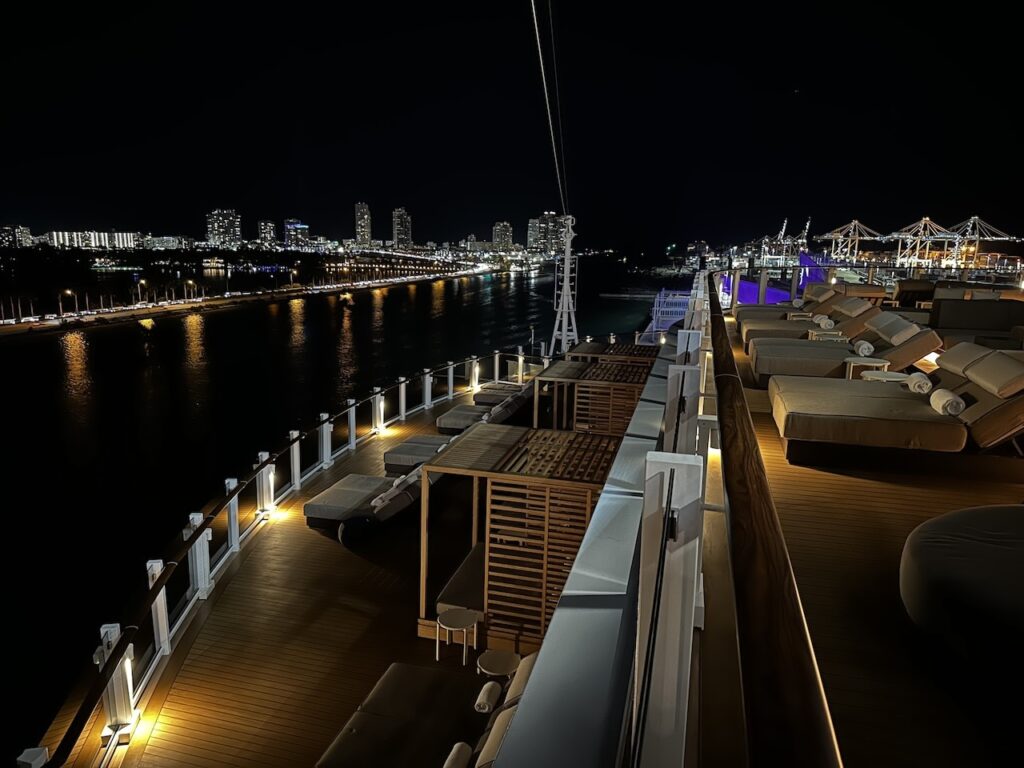 We ate dinner inside the Indulge Food Hall. It's a really good tapas-style restaurant where you order on screens at your table. It's priced à la carte. We both really enjoyed the naan and dipping sauces. The international pastas and meat selections were also tasty. We loved the pesto gnocchi and also enjoyed the Picanha meat selection with accompanying sides. They have a large dessert selection as well.
After dinner we went to a show called "Noise Boys". It was a cool show with talented tap dancers, a singer, and two beat boxers. It's about an hour long. My husband thought it was a bit too long.
Next we went up the 17th deck to grab a snack and something to drink at the buffet before bed.
We received a letter in our room that said we did not check into our muster station even though we did, and the television in our cabin kept on showing the safety drill video over and over again. We couldn't watch the television in the room without it playing again. It's just one of the little annoying things that happen on new ships. It's one of a few glitches and kinks they needed to fix.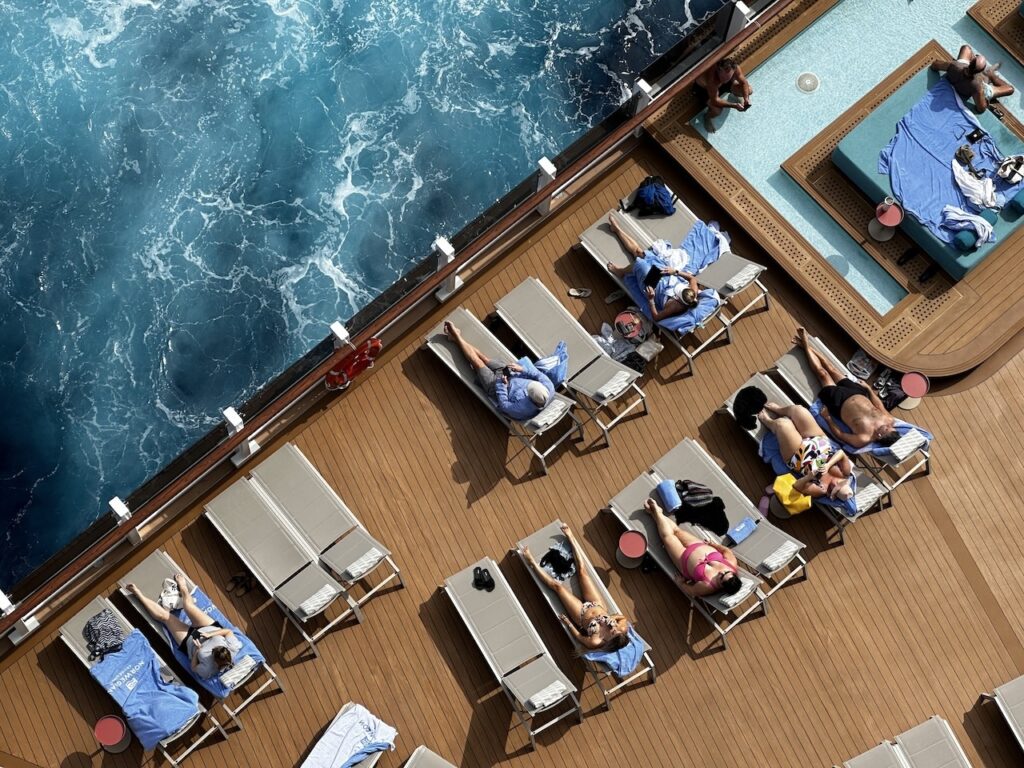 Day 2 – At Sea
We woke up around 7 a.m. to get our day started early. I rushed up to get a day pass for the relaxation area and thermal spa, then Matt and I went to breakfast in the main dining room.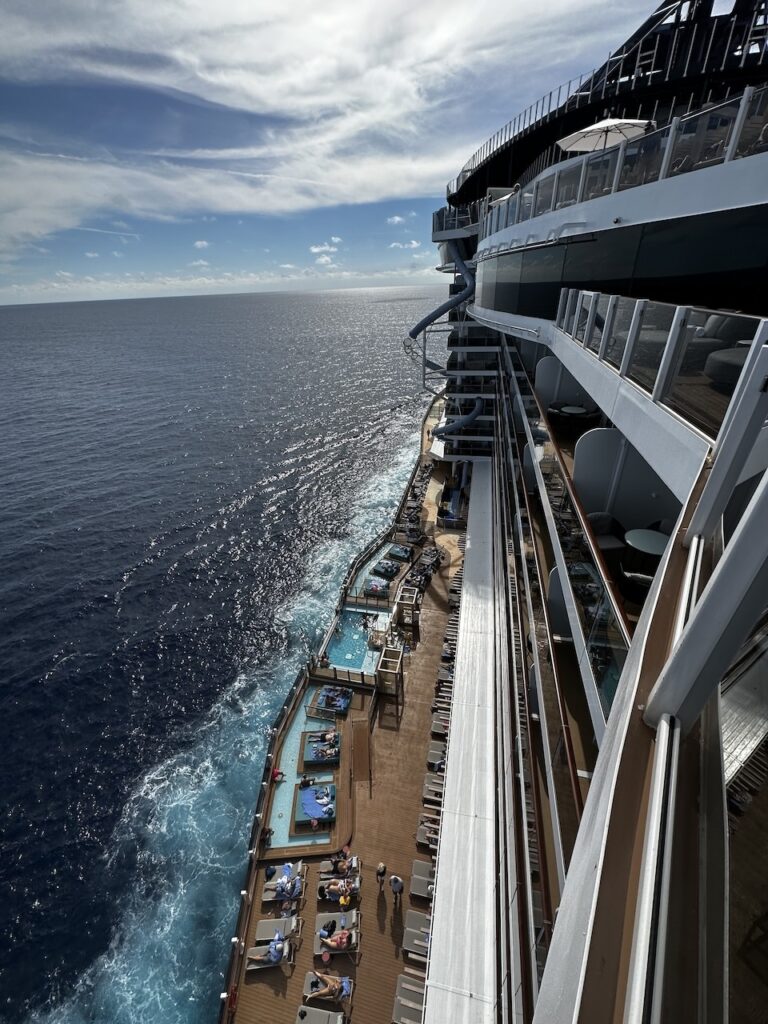 We shopped for a little while we were near the stores. The back of the Pandora shop has some of the little things you may have forgotten to bring with you. Matt forgot his toothbrush and bought another here. But if you have a weakness for Pandora jewelry, like I do, it's hard to walk out without buying something.
Matt went on a tour of the Haven suites area. He told me this is the first Norwegian ship to have their Haven area at the back of the ship. It's also the first time the Haven guests have their own elevators. He said the Haven area was really nice, and included it's own exclusive bar, restaurant, and pool area. There are 107 suites on Prima.
While he did that, I went to the the Mandara Spa for my massage and then to enjoy the thermal area. Both are worth the splurge. The ladies locker room is a little on the small side, and the venue above the spa treatment rooms is very loud. Despite that, I really enjoyed my hot stone massage. Also, the thermal suites were really nice to add to your treatment.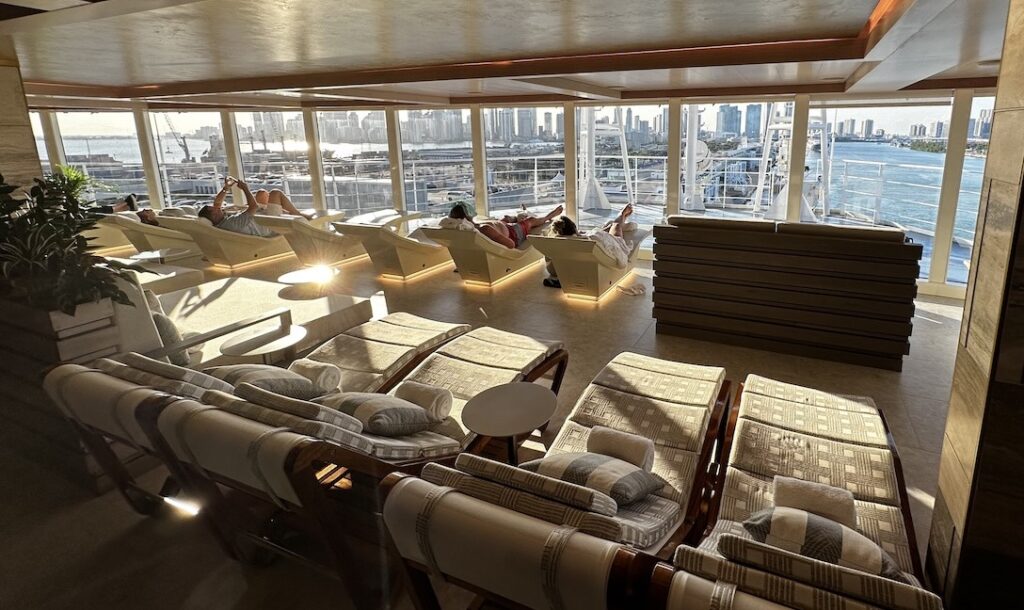 Matt was in a meeting when I finished in the spa, so I went up to deck 17 to Surfside Cafe & Grill buffet. They had so many things to choose from. I was so happy when I found some Mediterranean selections (my favorite). They also had Spanish food, Asian food, and hamburgers and hot dogs, plus desserts and more.
A little tip, if the Surfside Cafe is crowded, you can take your meal over to the Food Republic at lunch time. It was way less crowded and had silverware, napkins and condiments available. They use it as an overflow area.
After lunch we walked up to deck 18 where the putt putt, Speedway, and the dry slides are located. Matt went down the The Drop dry slide and loved it. I was too chicken. Some people were getting stuck for a few seconds in the clear part of the tube and that would have freaked me out. So I just filmed and watched him. The scream he let out cracked me up. You can see the video below and on our YouTube channel.
I went to take a nap then get ready for cocktails with some of our media friends. Matt explored the ship more. While getting ready for dinner, we saw a beautiful sunset from our balcony.
We had dinner at Nama Sushi and Sashimi restaurant. It's a specialty restaurant with an up-charge. We ordered some edamame, tuna tataki salad, a rainbow roll, a crispy salmon roll, and we tried the two different desserts. It was all very delicious. There's a saki list and speciality drinks as well. I got a glass of The Living Jewel Saki and Matt got the Hello Lychee cocktail. His drink was much better than mine. I like Saki cocktails better than plain Saki. But it is fun to try different things sometimes.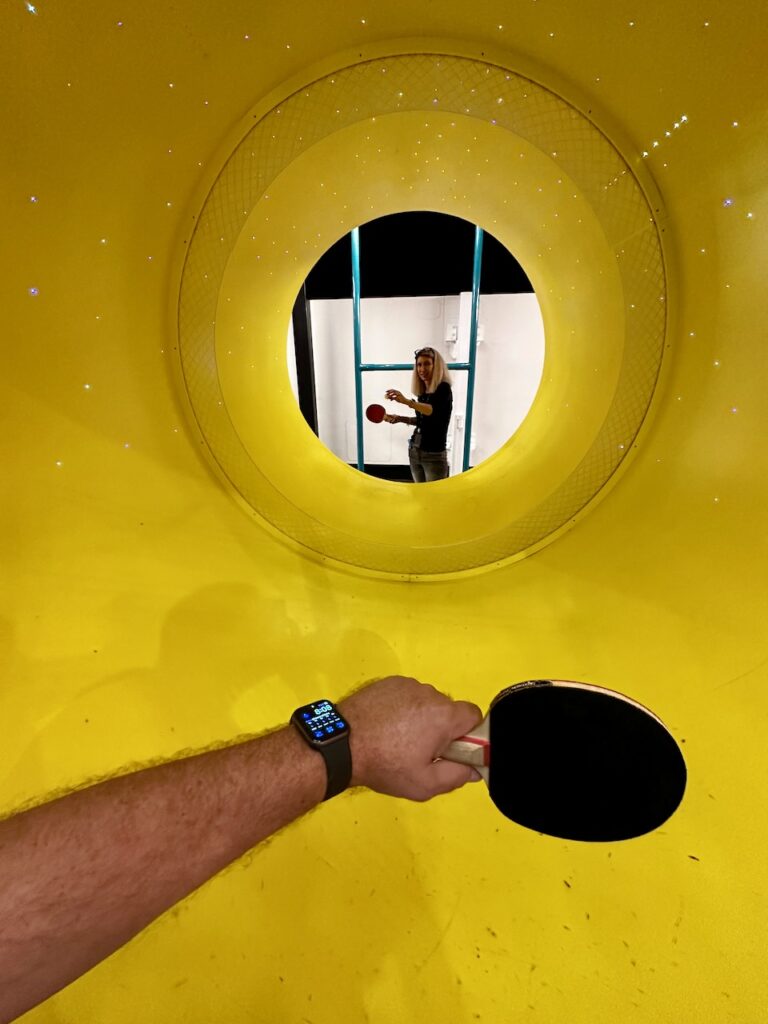 After dinner we went to play games in The Stadium on deck 18. We played ping pong, beer pong, table soccer, pickle ball, putt putt golf, and darts in The Bull's Eye area. It's all free except the darts and go-karting Speedway. After all that fun, we went to the VR room to try one of the rides we had not done yet. It was like a flying ride and you could choose to shoot at targets or not. Unfortunately it wasn't working correctly.
We then check out the disco dancing that was happening in the Prima Theater. The theater's seats can all be pushed back to make a large room that's perfect for a dance club. The chairs can also be arranged in different setups for watching shows.
After a fun night out, we decided to grab a snack before bed. Surfside had a small selection of things to satisfy your bedtime snack cravings.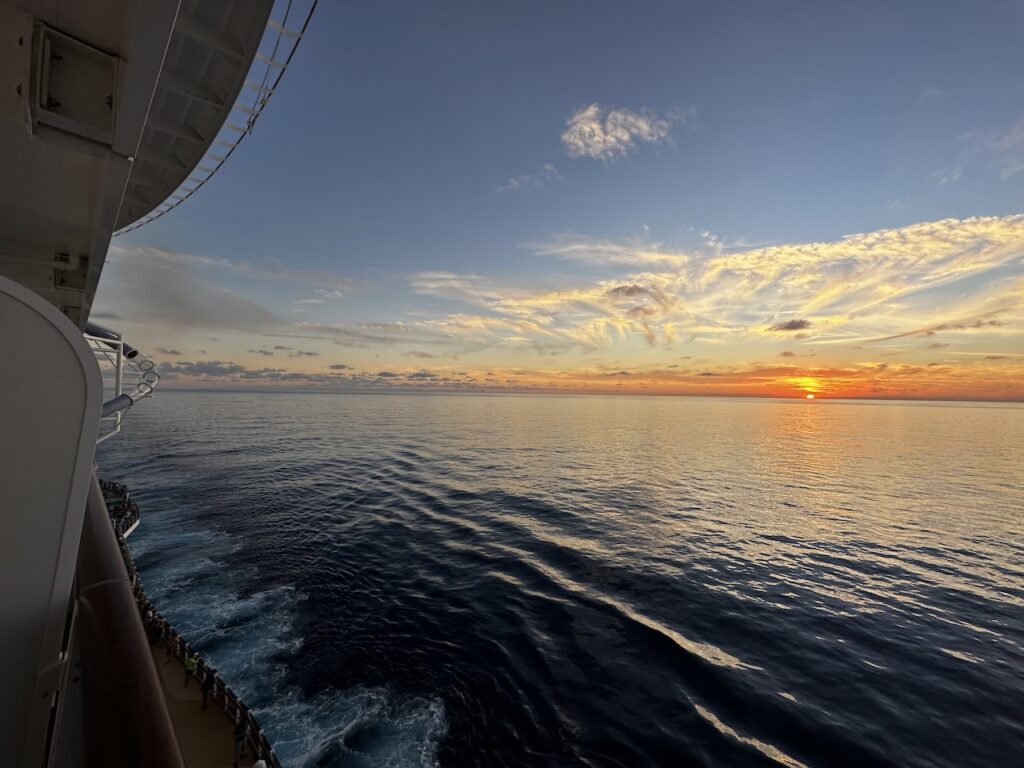 Day 3 – Great Stirrup Cay
We woke up early and had quick breakfast at Surfside Grill before heading down to catch our tender to Great Stirrup Cay, Norwegian's private island. They are planning to build a dock here, but not anytime soon. In the mornings, you need to get a number for the tender or you'll get one automatically if you booked a tour. Tendering onto the island always takes a bit more time, so plan accordingly.
We were part of a media tour, so we had to meet in the lobby on deck 6, near the Penrose Bar before being guided to our tender. You can't take drinks onto the tender, so chug your Starbucks before you board. If you purchased a beverage package, it extends to the island. Norwegian was the first cruise line to own a private island.
Great Stirrup Cay features different kinds of cabanas, a food truck, and restaurants and bars spread out around the island. Kayaking and paddle board rentals are complimentary. Lounge chairs and umbrellas are complimentary too. The only real up charges are the alcohol (if you don't have a package), zip lining, the spa, cabanas and villas, and some other recreational amenities.
There's a lighthouse on the island, but you can't go up it unless you purchase the zip line experience. We didn't do it, but it looked like it included a lot of rope climbing as well. The zip-line excursion starts and ends at the lighthouse.
Silver Cove is a private beach area you have to reserve before hand. The Haven suite guests get first dibs. Private villas are available to rent there as well. Servers come around to take care of your every need right at your villa. We shared a a small studio villa with other media guests. They are air-conditioned and include a sitting area with couch, television with free movies, a small table and chairs, a closet with a safe, lounge chairs on the porch, and a full bathroom. It was really a hot day when we were there, so the air-conditioning was a welcome surprise.
Here's a tour of our villa:
There is a private dining area for Silver Cove guest and the Madra Spa is located there too. All of the locations have amazing ocean views. The food on the island was really good. Yes they had hamburgers, hot dogs, and pizza, but they also had ceviche, fish, chicken skewers, salads, fruit, and delicious tropical inspired desserts. The main restaurants outside of Silver Cove are more BBQ based, but the food truck offers some of the same seafood options. The wi-fi wasn't working on the island when we were there, but we heard it's supposed to be.
We left the island about 1:30 p.m. and there was a short line for the tender. If you wait until the last tender, there could be a long line. Matt headed to the Speedway for a few laps. Prima has the only three-level go-kart speedway at sea.
We got ready for dinner early and met up with our media group in the Galaxy Pavilion area for some more VR and other games.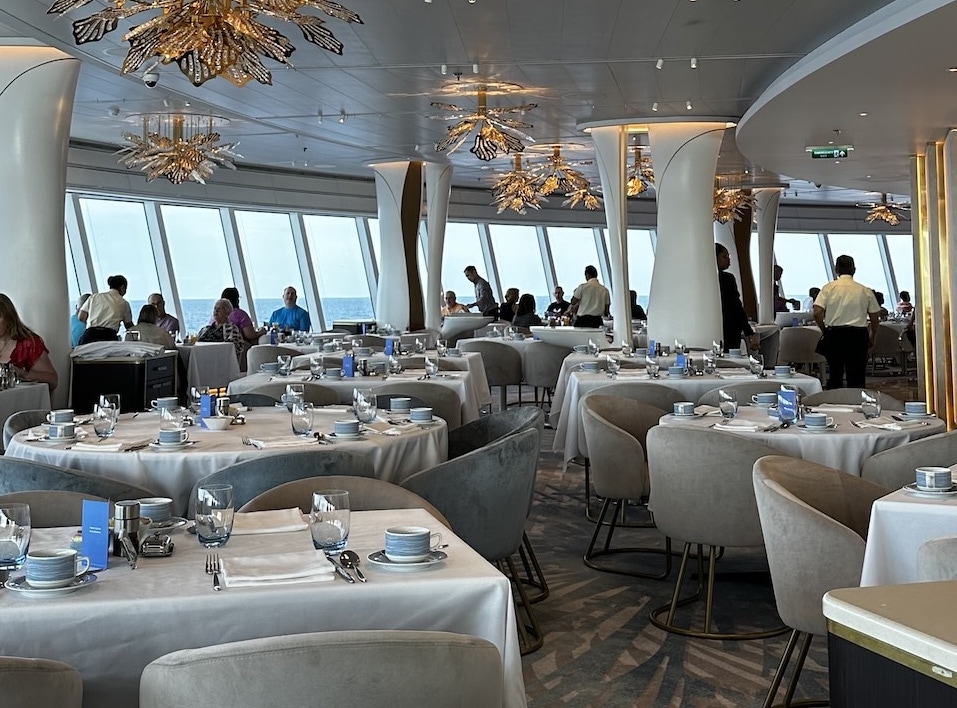 We decided to eat dinner in Hudson's dining room. It's one of two complementary main dining rooms, along with The Commodore Room. Both menus were the same, but the look is so different from day to night. The light features are very pretty in Hudson's. The Commodore Room is a bit darker. Matt had Beef Wellington and I got Veal Oscar. Both were good, but not the best we have ever had. The desserts selection was good too. We got the Honey Crème Brûlée and the Warm Chocolate Lava Cake.
We had reservations to see "Summer: The Donna Summer Musical" for our last evening. It's about the ups and downs of her life, and of course, her music. We got there about 25 minutes early, and thank goodness we did, as the good seats filled up fast. So get there early even if you have reservations. The dance numbers were a little on the spicy side, and there is some adult content, so it's not a show for young kids. But the show was absolutely amazing, especially if you love Donna Summer's music. The lead singers' voices gave me goosebumps. People were dancing in their seats to the "Last Dance"!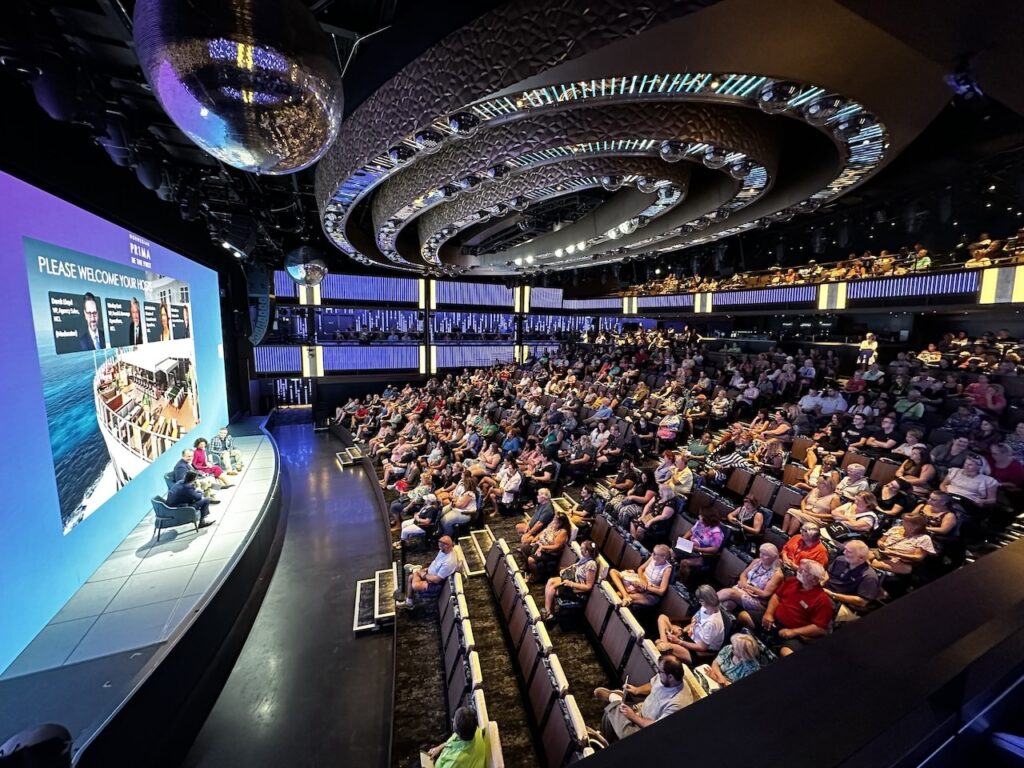 Day 3 – Disembarkation
We woke up early to finish packing and had breakfast in the Indulge area, which is one of my favorite areas. It has so many different cozy areas to sit, inside and out. There are different food stations at breakfast to choose among. Just know they don't have a traditional breakfast. They have breakfast sandwiches, cereals, fruits, and pastries.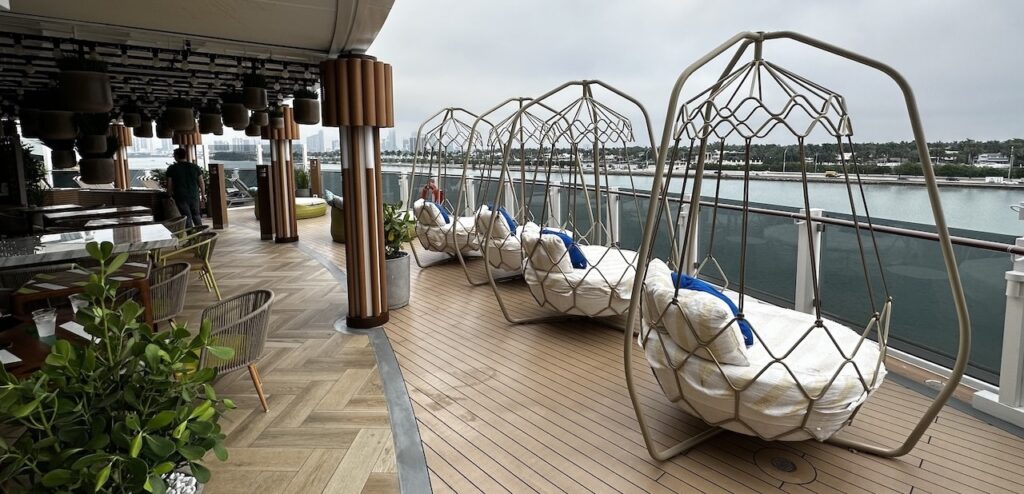 Have a little patience debarking the ship on the last morning. The crowds can get a little crazy and the line can get long and sometimes disorganized. Our room steward was really anxious to get into our cabin to clean it and get it ready for the next cruise. We also heard this from some other cruisers. A go-with-the-flow easy-going attitude helps make things go a bit smoother.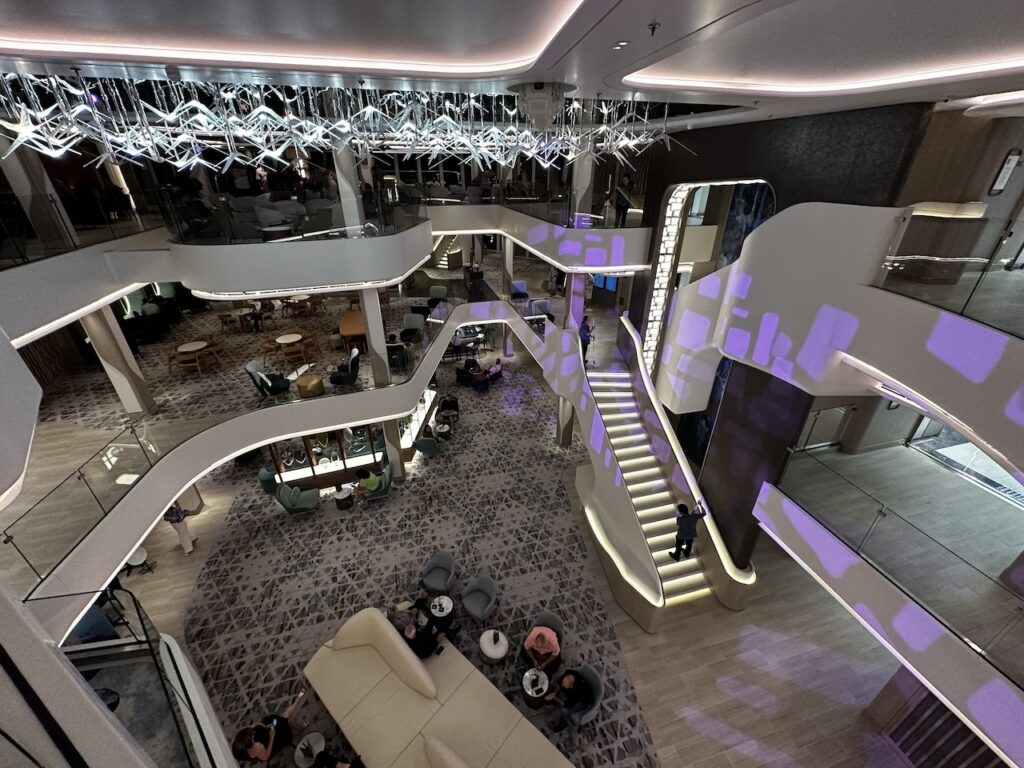 Norwegian Prima Overall Impressions
Prima is a nice new ship with a lot of fun entertainment elements, and a wide variety of dining options. The specialty dining does have extra charges, but you'll get more variety and a fun atmosphere. There's an extensive amount of bar and lounge areas as well. We were only on the ship a few days, so we didn't get a chance to try all the restaurants and lounges. So research the Norwegian Cruise Line website to pick out and reserve where you would like to eat before your cruise. I can't stress enough how beneficial it is to try and book your dining and entertainment before your cruise. You don't want to miss out. If you can't book it ahead of time, do so as soon as you get onboard.
The staterooms are comfortable, well designed, and thought out. Here's a tour of ours. Scroll down for videos of more room types, including one for solo travelers.
We didn't get a chance to see the kids area during our cruise. But they do have kids activities and rooms. The spa is really nice, but the treatment rooms can be a bit noisy. The fitness center has a nice view if you are a workout-type person.
In my opinion, the Galaxy Pavilion VR game area, Donna Summer Musical, at least one speciality dining restaurant during your cruise are a must. The cabanas and villas are worth the splurge (depending on the cost) if you are planning to spend the day at Great Stirrup Cay.
This was a preview cruise and we were invited media. So some things on this sailing might not happen on regular sailings. Hopefully all the little kinks will be worked out for your cruise. Stay safe and cruise on!
When you're ready to start planning your next cruise, no matter which cruise line, we recommend contacting MEI Travel. There's no charge for their services whether you end up booking through them or not, and they can answer all your questions. Visit them at mei-travel.com.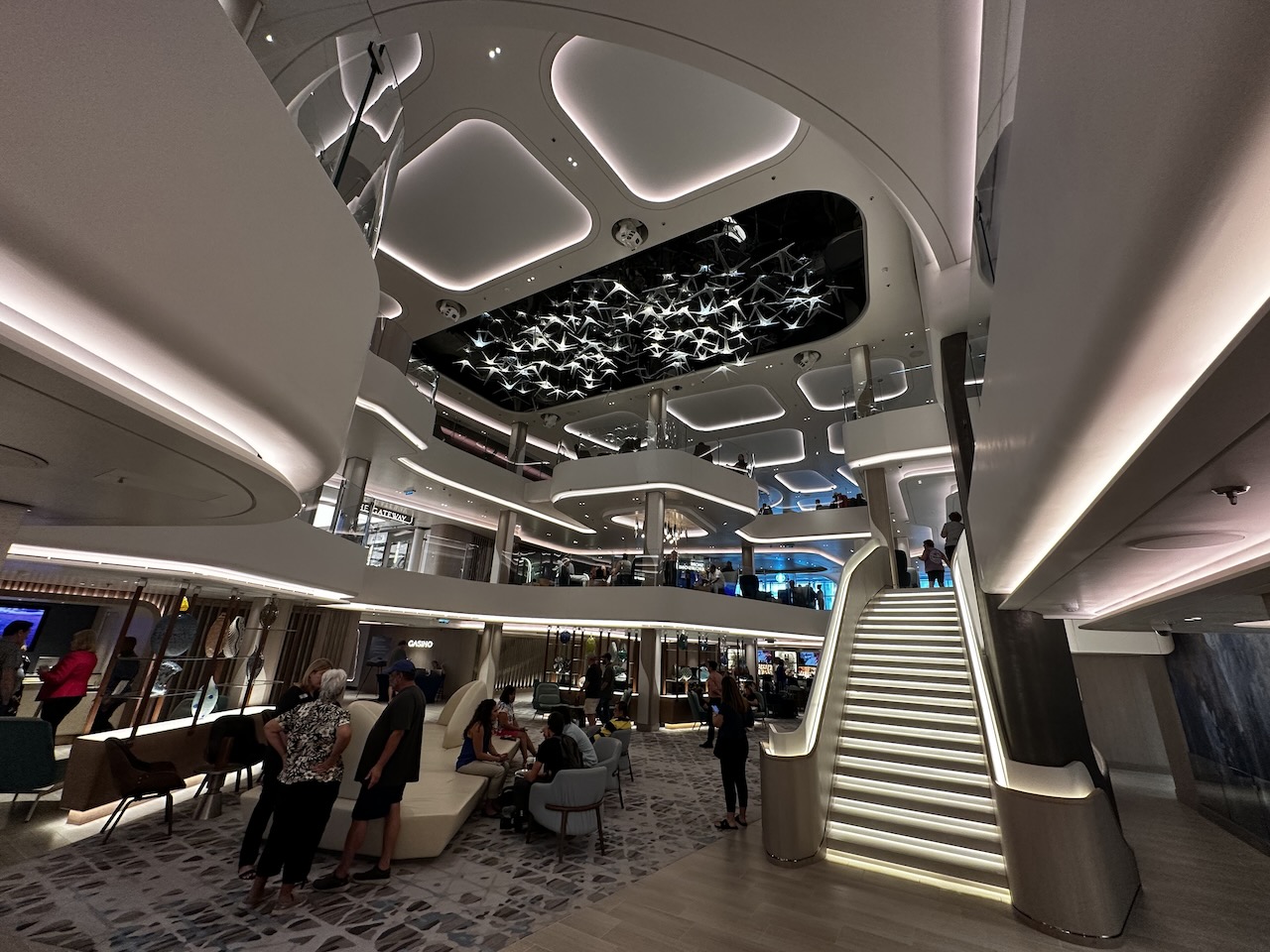 (Visited 763 times, 1 visits today)