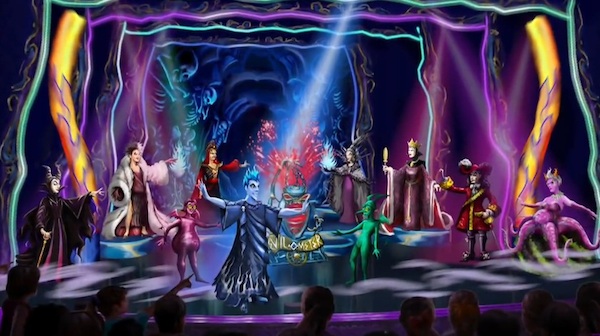 The malevolent world of the Disney villains takes a comical spin in "Villains Tonight!," a musical spectacular that Disney Cruise Line is premiering in spring 2010. The revue-style show will debut during the March 27 voyage aboard the Disney Magic and will debut aboard the new Disney Dream cruise ship in early 2011.
"Villains Tonight!" is the first full-scale musical production dedicated to the Disney villains. The show is a family-friendly, fun-filled musical extravaganza that places these famous evil-doers in some irreverent funny moments.
"We pride ourselves in delivering exceptional entertainment and magnificent stage spectaculars aboard our ships," said Jim Urry, vice president of entertainment for Disney Cruise Line. "With 'Villains Tonight!' we are bringing the lovable and loathsome Disney villains to life in a way never seen before — as the stars of the first musical comedy devoted to the anti-heroes of our films."
Disney Cruise Line assembled an all-star creative team headlined by the Broadway writing duo of Hunter Bell and Jeff Bowen. They are joined by director Allison Narver, choreographer Karma Camp and musical director Ben Cohn.
"Villains Tonight!" begins as Hades and his faithful sidekicks, Pain and Panic ("Hercules"), welcome new souls (the audience) to the Underworld. But instead of a frightening realm, guests will discover that Hades has turned the Underworld into an upbeat and happier place. The lively fun comes to a halt when The Fates arrive and predict that Hades will lose his position as Lord of the Underworld if he doesn't ramp up the evil factor.
Worried by the news, Hades checks his Evil-O-Meter and discovers it is running dangerously low. So he comes up with a plan: He'll conjure up the very best of the worst — the most powerful Disney villains — to help him replenish the world of evil. What ensues is a comical journey as Hades, Pain and Panic embark on a quest filled with wacky antics and amusing musical numbers featuring Disney villains and their sidekicks.
"Villains Tonight!" features a "Who's Who" of the Disney villains, including Disney's newest crook, Dr. Facilier from "The Princess and the Frog." The show also features classic divas and scoundrels like Ursula ("The Little Mermaid"), the Evil Queen ("Snow White and the Seven Dwarfs"), Captain Hook ("Peter Pan") and Scar ("The Lion King").
During "Villains Tonight!," the 977-seat Walt Disney Theatre becomes a hilariously wicked world through the use of elaborate sets and special effects, extravagant costumes and a fun-filled, contemporary musical score. The show's scenery takes guests on a dazzling journey through many villainous worlds, from the deck of Captain Hook's ship to Scar's Elephant Graveyard to Ursula's Undersea Lounge.
"Villains Tonight!" features irreverent versions of classic Disney villain tunes including a dance club version of "Cruella De Vil" ("101 Dalmatians"), a Copacabana-inspired take of "Poor Unfortunate Souls" ("The Little Mermaid") and an electrifying version of "Friends on the Other Side," from Walt Disney Pictures' newest animated feature, "The Princess and the Frog." In addition, Bell and Bowen developed two original songs especially for the show, "Welcome to the Underworld" and "Villains Tonight."
The show was produced by Walt Disney Imagineering Creative Entertainment, which has received acclaim for its productions around the world, including "Finding Nemo — The Musical" (Walt Disney World Resort in Florida), "Disney's Aladdin — A Musical Spectacular" (Disneyland Resort in California), "Twice Charmed" (Disney Cruise Line) and "The Golden Mickeys" (Hong Kong Disneyland and Disney Cruise Line).
"Villains Tonight!" joins the lineup of shipboard stage musicals as the Disney Magic gets ready to embark on an unprecedented five-month season of Mediterranean and Northern European cruises. Departing from Barcelona, Spain, Mediterranean cruises go from April 24 to May 26 and Aug. 7 to Sept. 8, visiting ports in Italy, France and North Africa. Departing out of Dover, England, the Northern European cruises will sail from June 12 to July 18, visiting St. Petersburg, Oslo, Copenhagen and other enchanting ports.
To learn more about Disney Cruise Line or to book a vacation, guests can visit disneycruise.com, call Disney Cruise Line at 888-DCL-2500 or contact your travel agent.
(Visited 14 times, 1 visits today)