Looking to connect with other cruisers? Norwegian Cruise Line (NCL) has an application for that. Guests booked on a NCL vacation at sea can now network with other guests on the sailing with the NCL Cruise Countdown Clock Facebook application.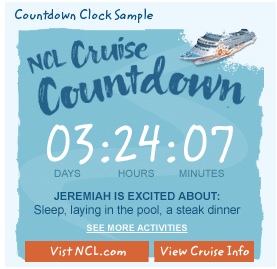 Guests that have a sailing booked with Norwegian (or who want to make their friends jealous by pretending they do) can head to http://apps.facebook.com/nclcountdownclock and add the application to their Facebook wall. The NCL Cruise Countdown Clock, of course, tallies the number of days, hours and minutes until the guest cruises, but more notably, it shows all the other people utilizing the application (both friends and non-friends) who might be on their sailing, enabling cruisers to connect long before their ship sets sail.
Since launching its Facebook page a little over four months ago, Norwegian has amounted 2,000 fans. Guests can become a fan of NCL at http://www.facebook.com/pages/Norwegian-Cruise-Line/43678986413?ref=s.
In addition, the line has a presence on the following social media platforms:
Twitter at twitter.com/NCLFreestyle
Flickr at flickr.com/groups/nclfreestylefans
YouTube at youtube.com/user/NCLFreestyle.
(Visited 692 times, 1 visits today)