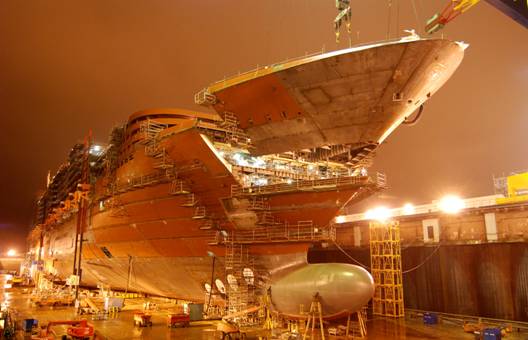 Norwegian Epic's construction, underway at STX Europe in St. Nazaire, France, celebrated a milestone in the early morning hours last Wednesday, April 9, when the ship's bow was lowered into place. The bow, known as block 642, weighed 445 tons and measured 85 feet long, 108 feet wide and almost 30 feet high. The process of putting the bow in place took 100 workers about two hours. This significant step represents the completion of the lower part of the steel hull, those areas that come in contact with the sea, and indicates that only the superstructures, or topsides, remain to be finalized.
"Embarking the bow is a symbolic and strong step in the building of Norwegian Epic. She is taking shape beautifully," said Roberto Martinoli, Norwegian Cruise Line's president and chief operating officer. "STX Europe is doing an incredible job of constructing our largest and most innovative Freestyle Cruising ship to date."
The 153,000-gross ton, 4,200-passenger ship is scheduled for delivery at the end of May 2010. Norwegian Epic's next and final chapter reveal is scheduled for May 20 in New York City. Also that day, the ship's 2010-2011 sailings open for sale to the general public. These include seven-day Eastern and Western Caribbean itineraries from Miami. To date, the company has revealed the ship's accommodations, night life, restaurants, aqua park, sports deck and family activities.
(Visited 12 times, 1 visits today)